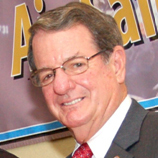 Frank Del Gandio
Frank has 50 years of experience in aviation and has a passion for aviation safety. He recently retired from the Federal Aviation Administration where he spent the last 32 years in the Office of Accident Investigation as the Division Manager. He was responsible for the NTSB and FAA internal safety recommendation programs. In addition, he was the Program Manager for the FAA's accident investigation school at the Transportation Safety Institute in Oklahoma City, and lectured there for 26 years.
Prior to becoming the Division Manager, Frank was the FAA IIC on 45 major accidents and participated in 18 NTSB public hearings as the technical advisor and the FAA spokesperson.
Frank's initial career at the FAA was as a Flight Standards Inspector. He was an air carrier maintenance inspector for five years and one and a half years as a general aviation maintenance inspector. He investigated 27 general aviation accidents as the FAA IIC.
Prior to joining the FAA, Frank worked as the Chief Inspector and Maintenance Sales Manager for Falcon Jet Corporation (previously Pan American Airways Business Jet Division).
Frank was a member of the New Jersey Air National Guard for 33 years. He began as a crew chief and retired as the Deputy Commander for Maintenance with the rank of Colonel.
Frank is currently the President of The International Society of Air Safety Investigators (ISASI), a position he has held for 17 years.
Frank is the Past President of the Westchester Aircraft Maintenance Association (New York).
Frank has numerous aeronautical licenses and holds a Master of Business Administration Degree from Central Michigan University and a Bachelor of Science degree from Fairleigh Dickinson University.