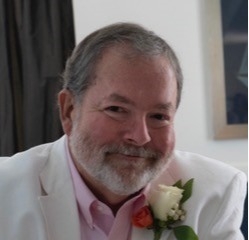 B. Hooper Harris
Hooper started flying at age 13, earning his first private pilot qualification in gliders at 16, followed by commercial, flight instructor and airline transport pilot certificates, all at the minimum regulatory ages.
In his civil aviation career, Hooper was flight instructor, corporate pilot and designated pilot examiner. From 1981-86, he was a flight, ground and simulator instructor for FlightSafety International on the Commander Jetprop series of turboprop airplanes. He then joined the Federal Aviation Administration (FAA) as an Aviation Safety Inspector (Operations). In his 25-year career with the FAA, he was an aviation safety inspector, air safety investigator, and a branch and division manager. At FAA's Washington headquarters he led several safety policy and regulatory initiatives involving the implementation of new flight operations technologies (including the implementation of GPS, RNP and enhanced flight vision systems), advanced aviation weather services, helicopter emergency medical services safety and operational control standards.
In his last four years at FAA, he managed the agency's Accident Investigation Division and was the FAA spokesperson in several National Transportation Safety Board public hearings.
In 2011, he joined the oil and gas super-major BP as a Lead Investigator where, in addition to leading safety incident investigations, he trained and assessed company investigators around the world. Prior to retiring in 2020, he was the company's Group Technical Authority – Investigations.
Hooper has approximately 7500 hours as a pilot, and holds several FAA certificates, including:
Airline Transport Pilot
Airplane Single & Multiengine Land
Rotorcraft-Helicopter
AS-350, AS-355, BH-206, DA-50,
EMB-110, IA-JET, SK-76
Commercial Privileges
Airplane Single & Multiengine Sea
Glider
Flight Instructor
Airplane Single and Multiengine
Rotorcraft-Helicopter
Instrument Airplane and Helicopter
Glider
Ground Instructor
Aircraft Dispatcher
He is also a certified Offshore Petroleum Industry Training Organization (OPITO) Competency Assessor and holds a Diploma from National Examining Board for Occupational Safety and Health (NEBOSH) in incident investigation. He also holds an MBA from Tulane University's A. B. Freeman School of Business, where he has taught graduate level courses in Houston, New Orleans, and Beijing.

Hooper is a full member of the Institute of Industrial Accident Investigators and the International Society of Air Safety Investigators, and is a Fellow of the Royal Aeronautical Society.